Home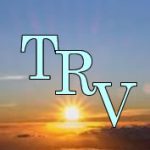 The Rockdale Voter
---
Serving The Citizens of Rockdale County Georgia.
---
We are making progress.
With your help we have moved this bill to a House Bill HB 741, but we are not across the finish line yet. To get this bill to pass we need the votes of two of our representatives who are currentlyu representing the Board of Commissioners rather than the citizens that elected them. Please file the Petition to let them know that you support this bill. Click HERE to file the petition.
Expand the Board of Commissioners.
Rhonda Taylor, our Representative in the House, has introduced legislation to expand the Board Of Commissioners from three members to five. This would not only make the board more representative of the county, stop two commissioners consistently overriding the third, but would allow more residents to become involved at a higher level of government in our county. But she needs the support of all of our Representatives in the House to get this done. You can help and show your support by signing the petition HERE. This will go to all of the members of our legislative delegation.
The Bill will:
Create a board of commissioners consisting of 5 members
Allow a professional County Manager to be hired.
Make the position of County Manager responsible to the board who will have the authority to remove the County Manager for Non-Performance, Malfeasance or Corruption.
Create Residents Ethics Board to provide oversight.
Sign Up for Our Newsletter and Event Notifications
Keep up-to-date on what is happening in our community and sign up for our Newsletter and Upcoming Events.
The Rockdale Voter needs your help. It costs money to run a campaign, to buy advertising, and buy signs. We ask that you help by donating so that we can continue to fund campaigns that are important to you. Just click the Donate Button at the top and Donate. It can be $10, $20, or more. Every Donation helps. The Rockdale Voter appreciates whatever you can donate. If we all club together we can do this.
Homestead Exemption Legislation.
The County collects 1% Sales Tax to be applied as an exemption against property taxes. This should be applied against homeowners Property Taxes for Tax Relief. The BOC was taking 30% of the money collected to use in their General Budget as discretionary funds. They have reduced this to 25%, but 100% of the money collected is supposed to go to Homeowners for Tax Relief. It's not. The legislation has been passed by the legislature to force the BOC to apply 100% of the monies collected to Tax Relief, but to make it enforceable, Citizens of the county must vote for it. We bneed to get this on the ballot, but we require 5,000 signatures to get it on the ballot and they cannot be Electronic Signatures. We need your help to collect the signatures. Please sign HERE to select a day you can help collect signatures.
Kappa Koffee House Town Hall.
The Political and Civic Action Committee of Conyers-Covington Action Committee of the Kappa Psi Fraternity is holding a Town Hall for Rockdale County.
This is NOT a political rally and no campaign signs or political speeches will be permitted.
This is a panel of local inflectional citizens who will discuss events in Rockdale and Newton County.
The  event will have some very interesting members on the panel including Oz Nesbit, Chairman of the Rockdale Board of Commissioners and Larry Cox Co-Founder of the Rockdale Voter. It will be an interesting and lively meeting, plan to attend.
For Additional Information contact: Minister Brockman – CCAC21022@mail.com
Venue
The JP Carr Center
981 Taylor Street
|Conyers GA 30013
Time
Tuesday October 25th, 2022.
6:30 P.M. to 9:00 P.M.
Panelists.
Hank Johnson Jr – 4th District Congressman.
Jonathan Chavez – Candidate for the 4th Congressional District.
Melanie Williams – Candidate for Sate Senate District 43.
Dar'Shun Kendrick – State Representative House District 95.
Alisha Thomas Searcy – Nominee for Sate School Superintendent.
Oz Nesbitt Sr – Chairman of the Rockdale Board of Commissioners.
Larry Cox – Co-Founder of the The Rockdale Voter.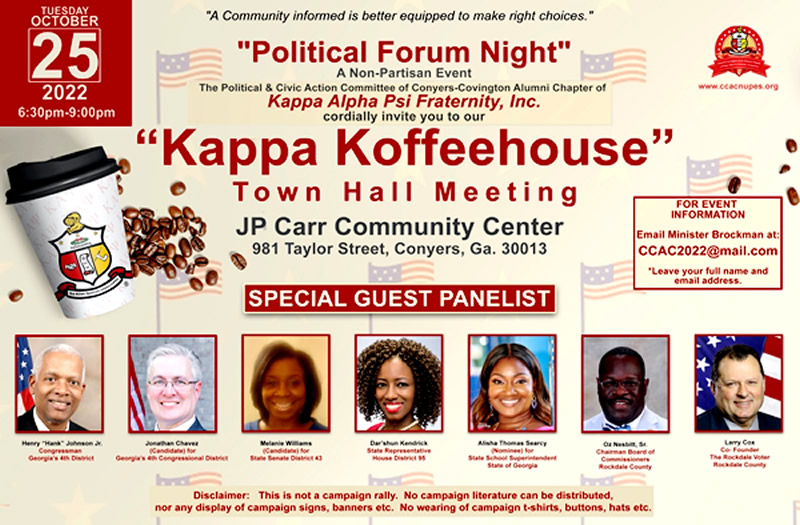 Petition for Rockdale County Forensic Audit
There have been many irregularities by the Board of Commissioners such as requesting the approval of a illegally constructed SPLOST, the illegal promotion of the SPLOST, a Commissioner being disbarred for what amounts to fraud, another Commissioner running a 501 3(c) non-profit that now has some legal questions. The failure to appoint a board to oversee the Rockdale County Water Authority so that bonds can be raised by the county without the over sight of a board, and used for county projects, the creation of a Secret Task Force to force the costruction of an Old Town Courthouse costing $150 million that was defeated once by the citizens of the county. The citizens now know that engineering forms were consulted and brought in to do design concepts as early as February, 2022. This has never been mentioned at a single BOC Public Meeting. All done behind a cloak of secrecy.
Many citizens of Rockdale County no longer trust the integrity of the Board of Commissioners and their management of our county government.
In light of this lack of trust, many citizens of the county have expressed their desire to The Rockdale Voter to have an independent forensic audit to uncover any other possible shady actions by the BOC. Former BOC Chairman Richard Oden is supporting this petition and will be invaluable in any audit as he is very familiar with how the County Government should be managed and run.
If you are one of these citizens, please sign the petition HERE
Some of the Issues that need investigating.
The alleged $20 million missing in fund balance reserves (2017-2021)
Federal Cares Act Grant Funds Possible Infractions (2020-2021)
Alleged Purchasing and Procurement Policies and Procedures Infractions (2017-2021)
Alleged Purchasing and Procurement Policies and Procedures Infractions (2017-2021)
Human Resources unapproved job description(s) infraction(s) without consensus of the full Legislative BOC (2017-2021)
Secret Courthouse Committee Revealed
First Public Meeting: Thursday April 28, 2022 at 5:00 P.M. in Courtroom 225C
Due to the efforts of  The Rockdale Voter the secret courthouse committee has been exposed. This committee was formed in secret without public knowledge to overrule Rockdale County Citizens to a downtown courthouse and rubberstamp the building of a downtown courthouse for $150 million instead of at Parker road for $50 million. Despite pressure from a high pressure lobby group this plan was defeated once. The second attempt is a hand picked committee headed by Janice van Ness who headed up the group pushing for the courthouse in the first committee to build a downtown courthouse.
County Committee Members
Sheriff Eric Levett
Judge Mumford
Judge Reid
Citizen Members
Janice van Ness – Chair
Doug Smith
Wendy Armstrong
Dr. Steven Boyle
Franklin Buford
Donal Murphy
School Tax Exemption.
With your support the School Tax Exemption for our seniors was raised from $35,000.00 to $50,000.00.
If we stick together as a community, we can have a voice.
Public Facilities Authority
With your support, although the Public Facilities Authority Bill was passed, it was not passed they way the resolution was written giving the BOC a free hand to indebt the county without any oversight. SB 638 is a very different animal than the BOC tried to get passed. You can read the bill HERE.
Our Delegation voted to APPROVE the Public Facilities Authority. It has now gone on to Governor Kemp to sign. If you want to contact Governor Kemp to VETO SB638 call 404-656-1776. You will be answered by a live person and be recorded. ALSO, go to https://georgia.gov/contact-georgiagov and write your opposition to SB638 and ask him on behalf of the citizens of the county to VETO the bill.